About the Project
T4<2° Transport For Under Two Degrees
Project Background
Responsible for approximately one-quarter of the world's greenhouse gas emissions, the transport sector is one of the largest consumers of energy worldwide. Accordingly, the transport sector necessarily figures prominently in efforts to transform the energy economy and protect the climate. At the same time, by enabling the mobility of goods and people, the transport sector fulfils a crucial economic and societal role.
Most of today's transport-related greenhouse gas emissions are produced in G20 countries. But the transport systems of emerging and developing nations are currently undergoing rapid growth and soon their emissions will be rising faster than those of industrialised countries. The OECD International Transport Forum estimates that by 2050, global transport emissions will grow by around 60 per cent unless immediate measures are taken. In the absence of such measures, the international community will fall dramatically short of the Paris Agreement's 2015 goal of limiting global warming to well below 2°C.
The transport sector thus plays a major role in clean-energy initiatives and government actions to fight climate change. Yet protecting the climate is just one part of the equation. Ongoing urbanization has left cities all around the world with massive levels of congestion that have brought transport systems quite literally to a halt. Meanwhile, a lack of mobility options in rural areas has imperilled societal and economic growth. New digital technologies will provide some solutions but they will also bring disruptive changes. Addressing them represents an unprecedented political undertaking, one whose scope goes well beyond the transport sector. The geopolitical reconfigurations and shifts in global power that may result will themselves pose new challenges to transforming mobility.
Project Description
Germany's Foreign Office commissioned the project T4<2° to develop global recommendations that promote a sustainable climate-friendly transport sector. The project will be carried out by the Deutsche Gesellschaft für Internationale Zusammenarbeit (GIZ), the World Economic Forum (WEF) and Agora Verkehrswende.
The project partners will develop recommendations with strategic foresight methods in a three-stage process. Based on a qualitative survey of an international and interdisciplinary group of 60 to 80 experts, the participating researchers will formulate hypotheses about potential developments in the transport sector and their interactions with politics and other areas of the economy (transport, energy, housing, manufacturing, employment, national security). In a second step, the researchers will employ a Delphi technique to verify their hypotheses with around 500 international experts. In the third and final step, they will draw on their previous insights as they make deep dives into the context of selected countries and regions in order to develop location-specific recommendations.
Timeline and Milestones
04/2019: Project kick-off at the Berlin Energy Transition Dialogue 2019 in Berlin
05/2019: Project Presentation at the International Transport Forum Summit 2019 in Leipzig
04 to 06/2019:Project phase 1: Context Mapping with 60 to 80 international and interdisciplinary experts
07 to 08/2019: Project phase 2: Delphi survey with 500 international and interdisciplinary experts
07/2019: Project presentation at the WEF Annual Meeting of the New Champions in Dalian ("Summer Davos")
10/2019 to 08/2020: Project phase 3: Regional deep dives in selected countries and regions
08/2020: Publication of Project Report
09/2020: Closing conference at the WEF Annual Meeting of the New Champions in Tianjin
Methods
T4<2° uses reliable methods of Strategic Foresight to develop policy recommendati ons for transforming mobility. Our research consists of three phases.
1. Context Mapping
In stage one, we will interview a transdisciplinary board of between 60 to 80 international experts surrounding the mobility transformation. These interviews will revolve around eight themes:
Through these interviews we seek to understand which issues the experts consider most important and the actions they deem most urgent in order to achieve a mobility transition. Based on our assessment, we will formulate hypotheses on trends in mobility and their potential interactions in different sectors and political arenas.
2. Delphi survey
In stage two, we will test our hypotheses by carrying out a Delphi survey of around 500 international experts. We will group their responses into different narratives and, on this basis, identify policy options and recommendations for decarbonizing the transport sector. A Delphi survey is a well-established tool for formulating assumptions about future developments in a certain topic. During such a survey, hypotheses are presented to a board of experts who are asked whether they agree with it. For  the issues that prove to be most controversial, refined hypotheses will be formulated. Those will again be presented to the board of experts for assessment. The result of this process are well-founded assumptions about the future development of the sector.
3. Recommendations
Based on these assumptions we will develop policy recommendations to achieve a global mobility transformation towards decarbonisation. In order to so, workshops with experts will take place globally. A final report will present our findings and conclusions to the public.
Events
Wednesday, 10 April 2019, 9.30 – 10.45 am

Full power ahead! How to stimulate a global decarbonisation of mobility.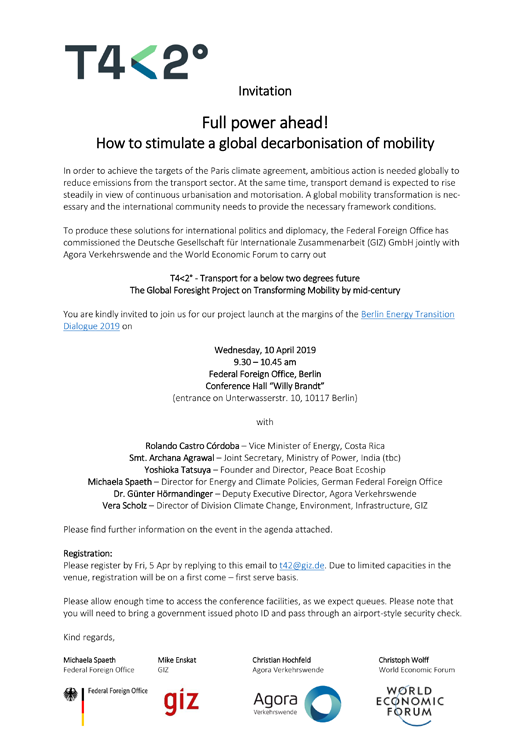 In order to achieve the targets of the Paris climate agreement, ambitious action is needed globally to reduce emissions from the transport sector. At the same time, transport demand is expected to rise steadily in view of continuous urbanisation and motorisation. A global mobility transformation is necessary and the international community needs to provide the necessary framework conditions.

Event Details:
Project presentation: Full power ahead! How to stimulate a global decarbonisation of mobility.
Wednesday, 10 April 2019, 9.30 – 10.45 am
Federal Foreign Office, Berlin, Conference Hall "Willy Brandt"
Download Programme: PDF (2 MB)
Publications
Thursday, 31 October 2019

Transport for under two degrees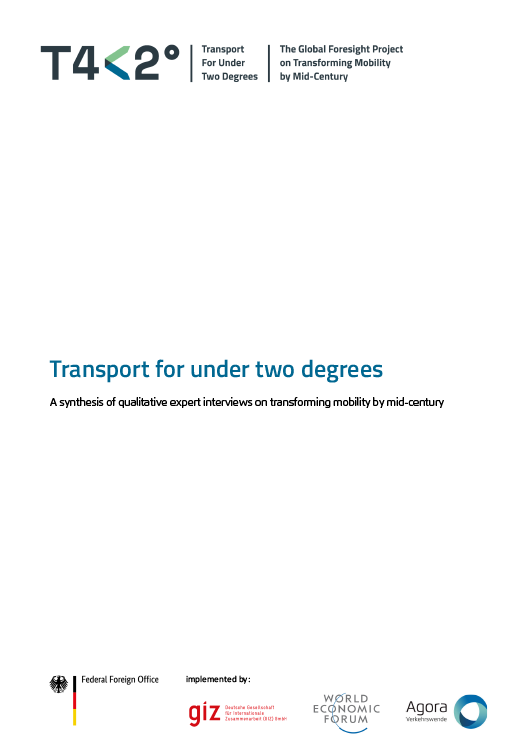 Transport for under two degrees
A synthesis of qualitative expert interviews on transforming mobility by mid-century
This interim report displays some preliminary results from the first of the three project phases and sums up the most prominent insights from the interviews with more than 60 international experts.

Release date: 10/2019
Number of pages: 19

Download: PDF (2 MB)